Arlee Bird @
Tossing it Out

Ninja Captain Alex J. Cavanaugh
Jeremy @ Hollywood Nuts
Nicole Ayers @ The Madlab Post
Author Stephen Tremp
Heather M. Gardner
AJ Lauer
Pam @ An Unconventional Librarian
Matthew MacNish @ The QQQE
Zalka Csenge Virág @ The Multicolored Diary
S. L. Hennessy @ Pensuasion
C. Lee McKenzie @ The Write Game
Joy Campbell @ The Character Depot
Susan Gourley @ Susan Says
John Holton @The Sound of One Hand Typing
Lisa Buie-Collard, Author
Evie's Knight
A steamy, yet clean Romance Novel.
When Evie falls in love with Calvin Knight, their young, virtuous romance conjures a truly wicked spell.

Evie always thought her eighteenth year would be magical, but so far it's not what she hoped for. Her best friend has gone wild, her love life is void, and she misses her mom more than ever. But life for Evie is about to change. Calvin Knight, the object of her fascination, is about to fall madly in love with her. Just one problem: Their love conjures a murderous woman from beyond the grave who wants Evie dead. The same demon who has haunted the Knight men for over four generations. Soon Calvin is forced to make a choice: Set Evie free and hope to evade the wrath of The Raven- haired Ghost, or use his newly gifted strengths to fight against her. If he chooses to fight and wins, Calvin will free the Knight men of this demonic witch. If he loses, Evie will become her next victim.
REVEIW:
Kimberley Krey's novel, Evie's Knight was a really enjoyable read. Evie, the MC is a teenage girl, who falls in love with Calvin Knight. I found Evie a kind but strong character and myself engaging with her dramas throughout the story as she moves through the dramas of a teenage relationship.
Teamed with the emotional turmoil of the the romance between Evie and Calvin, is the underlying story of paranormal mystery.
Full of secrets which aren't disclosed until the end of the story, I am sure readers will enjoy becoming involved with Evie and her emotional turmoil, while discovering the darkness attached to Calvin's family.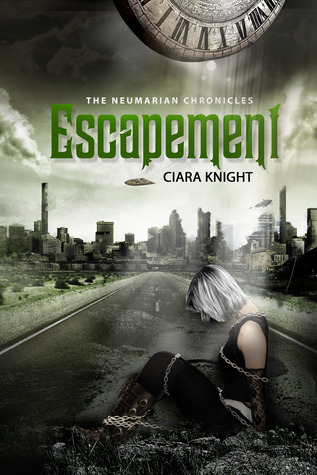 Ten years after the great war of 2185 the queen's reign is threatened by uprisings and fear. In celebration of my sixteenth birthday it is my duty as princess to sacrifice a slave to be initiated into the ruling council, solidifying my mother's empire. When my own erratic powers surface I'm captured and tried for treason. Slaves hate me, my mother wants me executed, and my only chance of survival rests in the hands of a young man, Ryder Arteres, whose sister I sentenced to death.
REVIEW:
This futuristic Steam Punk novel by Ciara Knight is a great read, full of interesting characters and action, airships and heros.
Princess Semara is mistreated by her evil mother, whipped and given more implants than she needs. Her mother, the queen rules the barren land and mistreats the people she rules just as badly. The Neumarian's fight the "Slags" for their freedom.
Ciara Knight has written a wonderfully colourful book, where readers will be swept into Semara's fight to survive and keep the Neumarian's she is found by, safe. Particularly one from legend named Ryder, whose sister she had put to death.
Episode One in the serial "Boreal and John Grey".

Centuries ago, they tried to invade us and failed. Now the elves are back.

Paranormal Bureau Agent Ella Jones knows her job: fight the Shades living between worlds and keep everyone safe. But then her partner goes missing, a mysterious guy saves her life, and increasingly dangerous creatures slip into her city. After centuries of peace, the gates beyond the Veil are opening and an old enemy is returning: the elves.

Ella needs to find her partner, uncover the identity of her savior, and find a way to stop the elves from invading again. With the world going to hell, what's a girl to do but grab her guns and knives and figure it all out, one way or another.
REVIEW:
Ella, the MC in The Encounter, by Chrystalla Thoma, works for the Paranormal Bureau, which controls the veil protecting Earth from "The Shades" and other paranormal creatures on the side of evil.

Chrystalla Thoma is a talented writer and this short story is no exception to the other books I have read written by her. The Encounter is a very different approach to the paranormal and is a refreshing change to the norm.

Readers will be entranced by this fascinating world Thoma has created for Ella.