Your hosts:
Arlee Bird at Tossing It Out, Damyanti Biswas at Amlokiblogs, Ninja Captain Alex J. Cavanaugh, Tina Downey at Life is Good, DL Hammons at Cruising Altitude 2.0, Jeremy Hawkins at Retro-Zombie, Shannon Lawrence at The Warrior Muse, Matthew MacNish at The QQQE, Konstanz Silverbow at No Thought 2 Small, Stephen Tremp at Breakthrough Blogs, Livia Peterson at Leave it to Livia, L. Diane Wolfe at Spunk on a Stick's Tips, and Nicole at The Madlab Post.
Wow! We are now half way through the al

phabet!
It is going very quickly!
For letter 'M' I have three books to

review,
and it is also time for W4W's!
This month we are supporting
and
So, let's band together and help them out,
Simply visit

either or both authors web sites,
say hello, and start
TWEETING THEIR

PRE-WRITTEN

T

WEETS
AND THEN AS OPPORTUNITY ARISES,
RE-TWEET OTHERS TWEETS
#W4WS
OR /

AND
Visit W4WS Facebook Page



TO SIGN UP, TO JOIN THE EVER GROWING W4WS LIST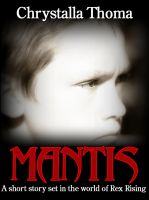 MANTIS
BY
CRYSTALLA THOMA
Smashwords
Amazon
Barnes & Noble
MANTIS CAN BE DOWNLOADED
FOR FREE AT ALL THREE SITES ABOVE!
BLURB:
Thrown into the sea, his memory of the last few hours hazy but slowly returning, young Mantis decides he can't die just yet – not before he has put up a fight and made the regime pay for killing the people he loved.
This is the story of how Mantis met Kalaes and how Mantis started his journey with the resistance, a moment which leads to certain events in Rex Equilibrium (Book Three of Elei's Chronicles).
REVIEW:
Mantis, by Chrystalla Thoma is a short novella telling the story of a boy called Mantis, who although he is not a main character in Elei's Chronicles, is an important p

iece in the puzzle of the main story.
This novella gives the reader of Elei's Chronicles knowledge and information relative to the story and is an interesting short read, containing information about the world

, where this sci-fi adventure takes place.
I found it an enjoyable,

enlightening read.
*****
MARK OF THE PRI

NCESS
By
B.C. Morin
Goodreads
Amazon
Barnes & Noble
BLURB:
T
he feisty and determined faerie Princess Alannah is many things, but she never thought she would be the key to her people's destruction.

Kidnapped for a power she does not yet possess, Alannah finds herself in the clutches of the most malevolent sorcerer of her time. Maligo. Alannah escapes her prison with help from the handsome and stalwart warrior faerie, Brennus.

Now she must cross mountains and forests fraught with rogue faeries, vicious Fae-hating trolls, dangerous shape-shifters, and more to reach the only ones that can help her control her incoming powers. The Elder Faeries.

With Brennus by her side, Alannah is determined to reach the Elder Faeries and save her people. Maligo is just as determined she never makes it that far.
REVIEW:
Mark of the Princess is the first book in

T

he Kingdom Chronicles written by B.C. Morin and tel

ls the story of Alannah, a young fae princess of the Kingdom of Meria.
The story evolves around

Alannah

learning her magical abilities and two romantic involvements, Prince Kaleb from the Kingdom of Talon and Brennus, a mighty warrior from

the Kingdom of

Anra

d
.
A love triangle develops between the three,

when

Alannah

finds herself attracted to both men.
Travelling to the Kingdom of Magi, on a quest to help Alannah learn and develop her powers, the band of travellers have many adventures facing Trolls, Gremlins, Goblins, Dragons and other mystical creatures on their jo

urney.
There is also a very dark threat which overhangs Alannah's safety, with

the

evil

sorcerer

, Maligo and his apprentice, who want

to harness

Allanah's power to unlock a dangerous, sleeping entity, wh

o

will th

reaten the safety of all the Kingdoms, if woken.
I found The Mark of the Princess an entertaining fantasy novel with strong characters and an interesting plot. Morin has put together an engaging story, taking reader's in

to

Alannah's magical world

. The Mark of the Princess

is an entertaining read for young adults, who enjoy b

eing immersed in fantasy and magic!
MORTAL OBLIGATION
By
Nicole Chase
Goodreads
Amazon
Smashwords
Barnes & No

ble
BLURB:
Ree will face the darkest form of betrayal before the year is out.
Seventeen year old Ree McKenna has three goals: get through high school, convince her crush she is more than his best friend's little sister, and save money for college. Fate, though, has other plans for her. After the untimely death of her older brother, Ree is haunted by dreadful nightmares and terrifying visions. To make matters worse, Ree has started to suspect that something dangerous is stalking her from the shadows. A night full of frightening surprises leaves Ree with unsettling news. Gifted by the gods with unusual powers, she must devote herself to a battle that could very well lead to not only her death, but the demise of everyone she knows and loves. After all, Ree is the only mortal standing between the Earth and utter darkness. Set in Savannah, Ga, Mortal Obligation is the first book of The Dark Betrayal Trilogy.
REVIEW:
Book

One,

in the Dark Betrayal Trilogy, Mortal Obligation, by Nicole Chase is a fascinating young adult, paranormal read. I was swept into Ree McKenna's very different life, as she and her friends

receive

powers from the gods, to battle an ancient foe from another world, who threatens the

existence of Earth.
Filled with many twists, readers will find the storyline of Mortal Obligation, unpredictable as they follow Ree's path. At the start of the book it would be easy to think that this was a vampire or ghost story, but with an original concept, Chase has created a uniqu

e read
.
*****
Thanks for stopping by! Remember to visit the guest authors for W4W

S and tweet their tweets!
You should also vote to appreciate a fellow blogger while you are here, simply fill out the voting form HERE!
Make sure you enter the Rafflecopter Gi

veaway for a
$20 Amazon Gift Card as a reward for voting!
I hope you are enjoying the A to Z Challenge!