23rd to 30th November
Hi and welcome to my blog! This week I am participating in a New Author Blog Hop!
I am happy to give away free copies of my first novel published as an eBook for participants in the Blog Hop.
If you enjoy a love story involving vampires and other dimensions, then you will most likely enjoy my book! Simply follow the link below to: "He Came For Me!" Book One, in The Protector Series, I have a link below where for the week the Blog Hop runs you can purchase my book free using the coupon number below!
For now heres the blurb:
Jazz, lives on the beautiful Sunshine Coast, in Queensland, Australia. She leads a normal teenage life busy with friends, TAFE College, a part time job as a waitress, surfing and searching for a boyfriend!
Until one day driving on her way to TAFE she is passed by a red Mazda Rx7. The driver holds her attention and as they both wait at a set of traffic lights to change to green, a sexual tension passes between them.
In the days that follow she finds that this guy moves into her life as she befriends him, his friends and family! But are Seb and his friends what they seem to be?
Attacks by groups of boys targeting girls Jazz's age are becoming noticed by the media. Eyewitnesses to the attacks state that these youths seem to possess abilities no normal human would be capable of. Is it drugs or is it something else?
Jazz finds that Seb, seems to be stalking her. What is his purpose? Is he really a friend or is he actually a foe?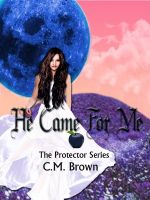 He Came For Me! Book One in
'The Protector Series'
http://www.smashwords.com/books/view/82996#longdescr
To receive a free copy of "He Came For Me" follow the link to the website above and enter the code below before November 30
Promotional price: $0.00

Coupon Code: KG58R
Expires: November 30, 2011