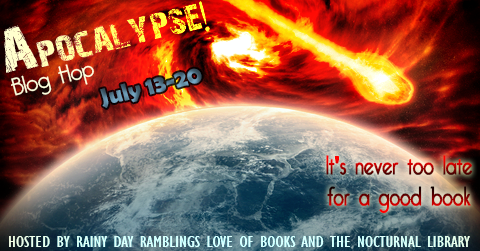 Apocalypse!
An eight day blog hop hosted by
Heidi@Rainy Day Ramblings
,
Maja@ The Nocturnal Library
and
Christy@ Love of Books
. The event will include a giveaway hop along with a whole lot of apocalypse-related interviews, guest posts etc.
For my part in the Apocalyptic blog I have decided to post an excerpt from a book I'm am writing, titled 'The Forces of Mist'. I hope you like it!
I will be awarding a $10 Amazon Gift Card to the lucky winner who enters the Rafflecopter Giveaway at the bottom of the excerpt.
You will also find the Apocalypse Blog Hop List at the end of this post! I wish you the best of luck!
The Forces of Mist
by Carolyn Brown
Excerpt
Standing atop the edge of the embankment, Sarah looked across the landscape lying below her, once known to be the city of Sydney, sadly, she remembered how it looked only a few short years ago. The land lush and green filled with wildlife. Sydney, the city had stood majestically at the edge of its pristine harbour, gleaming in the sunshine. The harbour itself, filled with boats and ships floating upon the crystal waters, enjoying a freedom that was to be short lived.
She could remember a time she shared with her parents, a short holiday where they had hired a sail boat and spent the daylight hours skimming across the harbour, enjoying the sights along the river bank. A tear fell from her eye and she wiped it away thinking of how much her life had changed.
The invaders came, landing in mass, huge space craft engulfing the skies, landing secondary craft in their thousands, large contingents of an invincible army streaming from them, demolishing everything without mercy. Killing randomly, without conviction, humans, animals, anything which stood in their path, all annihilated.
She remembers watching small children being cut down without hesitation, adult males and females slaughtered. There had been no discrimination, no moral judgement. No hesitation in their rampage.
Buildings were set alight and within a few short days humanity had almost been obliterated.
She had survived and so had her parents. They were some of the lucky ones. Her father was posted at the nearby army headquarters, a commander greatly needed to quickly lead a force to engage the confrontation.
Sarah and her mother, along with other family members of the contingent had been safely secured in underground bunkers, kept hidden from the onslaught. Their survival paramount in keeping humanity alive to combat the attacking force. She had grown up learning combat strategies and martial arts with the few teenagers who had also survived the initial attacks.
Although the alien technology with their advanced weaponry had overtaken Earth, they had learned their enemies' vulnerabilities and succeeded in holding on. She had learned what was necessary to survive in this now harsh, dangerous world.
a Rafflecopter giveaway