of Should Be Reading.
Grab your current read

Open to a random page

Share two (2) "teaser" sentences from somewhere on that page
BE CAREFUL NOT TO INCLUDE ANY SPOILERS!
Make sure that what you share doesn't give too much away!
You don't want to ruin the book for others!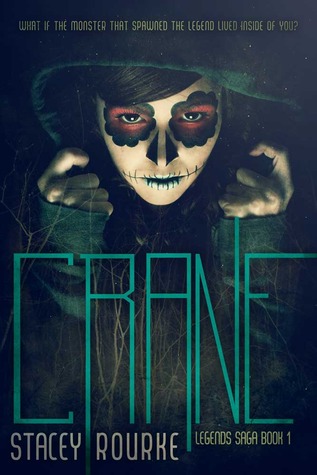 The Horseman is unending,
his presence shan't lessen.
If you break the curse,
you become the legend.

Washington Irving and Rip Van Winkle had no choice but to cover up the deadly truth behind Ichabod Crane's disappearance. Centuries later, a Crane returns to Sleepy Hollow awakening macabre secrets once believed to be buried deep.

What if the monster that spawned the legend lived within you?

Now, Ireland Crane, reeling from a break-up and seeking a fresh start, must rely on the newly awakened Rip Van Winkle to discover the key to channeling the darkness swirling within her. Bodies are piling high and Ireland is the only one that can save Sleepy Hollow by embracing her own damning curse.

But is anyone truly safe when the Horseman rides?
MY TEASERS:
"No! No! I beg of you! Show the mercy I know you capable of!" Ichabod's head snapped up to see Baltus edging away from the door, his face ashen with panic.

Rourke, Stacey (2014-05-24). Crane (Legends Saga Book 1) (p. 114). . Kindle Edition.
"What he became does not represent who he was," Rip snapped, the firmness of his tone offering no trace of apology. "The beast took him over. You, of all people, should understand that."

Rourke, Stacey (2014-05-24). Crane (Legends Saga Book 1) (p. 207). . Kindle Edition.