of Should Be Reading.
Grab your current read

Open to a random page

Share two (2) "teaser" sentences from somewhere on that page
BE CAREFUL NOT TO INCLUDE ANY SPOILERS!
Make sure that what you share doesn't give too much away!
You don't want to ruin the book for others!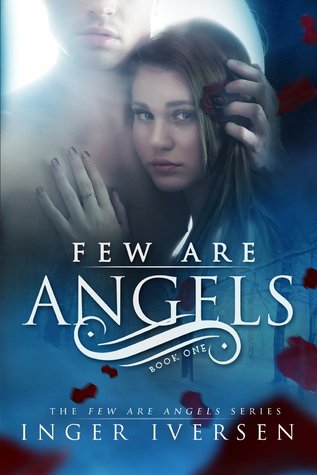 Few Are Angels
(Few Are Angels #1)

After a fatal hit and run accident, Ella Monroe fears that she's lost more than her beloved parents. Horrifying visions of a past life and a disturbing voice in her head have psychiatric professionals convinced that she's lost her sanity as well. But when Kale—a dark and handsome stranger with a mysterious pastreveals the true meaning of her visions and the tremendous power she wields through them, Ella must come to terms with the devastating truths of her own past, while eluding an ancient Dark Prince who seeks to control not only her future, but all of mankind's, by means of abilities that Ella is only beginning to understand.

Enter the shrouded world of an age old battle between an ancient race known as the Immortals and their bitter enemy Laurent, the so-called Dark Prince, who commands an army of half-breed vampires known as Chorý. Both sides have been desperately searching for the prophesied emergence of the Arc, a clairvoyant with unparalleled power to recall the past and a soothsayer with clear vision into the future.

The Council of Immortals has sworn to protect the Arc, whom they have identified as young Ella Monroe, a college freshman from Virginia living quietly and unaware of her powers or her past. But a renegade Chorý has other plans for the protection of a girl he has loved through the ages. Can Kale convince Ella of who she is, what she is destined to become, and what he once meant to her? Is he truly the best protector to shield the world from the devastating misuse of her powers that Laurent is bent on controlling? Or will the forbidden love they share and Kale's cursed condition as a retched and hated Chorý be used against them both?

This paranormal romance told from the heroine's perspective builds in intensity and intrigue to a finale you won't see coming. Heart pounding action mixed with heartwarming friendships and heartbreaking romance will leave you breathless and begging for more.
MY TEASER:
Kale had some weird self-loathing thing going on, and I needed to be careful about how much I asked about his vampire lifestyle. "Why can you come out during the day?" I stared into my cup of hot chocolate. I couldn't see his face, but I could tell he was uncomfortable with my question. "I mean, I thought vampires couldn't survive daylight or something, but when we first met, you said the sun only weakened you. What was that all about?" I paused briefly. "And do you seriously drink blood?" I blurted. I immediately regretted the rude way I'd asked the question. Maybe it was as personal as asking a female about her feminine issues.
Iversen, Inger (2014-01-19). Few Are Angels(Volume 1) (Kindle Locations 2902-2907). Inger Iversen Books, LLC. Kindle Edition.